We've got a
team of technicians

ready to help your staff

quickly and effectively
At the core of our service offerings to business customers is our team of technicians ready to help solve problems and provide solutions (also called a HelpDesk). Their job is to keep your staff working, so that your business is successful and productive.
Have a team member whose email isn't working? Our HelpDesk can work to resolve that. Forgotten a password? Our HelpDesk can provide it, or reset it. Need a new printer installed for your team members? Our HelpDesk can help you remotely, or come onsite.
You get the point. When your team needs help, our HelpDesk are the people to talk to for assistance. They're trained professionals who have seen and heard just about every issue, and they're waiting for your call or email.
Find out more below or contact us for more information.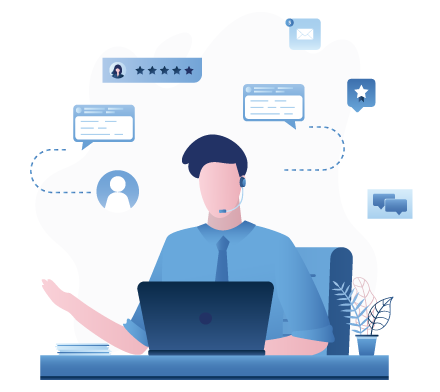 Why choose us to provide support to your team?
Response Time
We're consistently told by new customers that they are impressed by our response times. We know you need us to be quick and we make it a priority.
Remote help in an instant
Send an email or call our support line. Either way, our technicians can connect remotely to help you with most problems. Less waiting means your team gets back to work sooner.
Communication as a strength
What good does it do to talk in terms our customers don't understand? We're intentional about not talking over our customer's heads with tech-talk.
Stay informed
Tired of IT support teams who are poor communicators? We make a point of communicating with our customers so they know the status, options, and timeline of their support requests.
Fits your budget
IT support can get expensive. We've got support options to fit your budget, so you're not getting nickel and dimed every time you need help.
Service you can trust
Integrity matters to us and that's why you'll get an honest answer from our team, even if it means less work for us. We treat our customer's businesses the way we'd like to be treated ourselves.
"Connect Solutions has been a breath of fresh air for us. The owner Cam and all of his staff are able to talk technology at our level so we can work through any issue with less stress and greater understanding. When I send in a request I can check it off of my list because it always gets done."

Ready to provide your team with the HelpDesk support they need?
We can get you started!
We'll start by connecting with you to find out more about your business and your support needs. From there we can work on a pricing model that works for you. You'll wonder why you didn't do it sooner!